Camping with fishing lake
1
Fishing
at the Lac de la Chausselière campsite
Enjoying a stay at the Lac de la Chausselière *** campsite means taking advantage of a family vacation or a weekend to fish in the heart of the Vendée. It is also a unique opportunity to enjoy a stay, in France, at the water's edge, thanks to the proximity of the lake of La Chausselière.
Just a stone's throw from our campground in La Guyonnière, this vast body of water is a delight for hikers and vacationers alike, with its well-developed trails and lush green banks.
It is also an ideal spot for experienced fishermen or casual fisher men: you will find 18 pontoons at the water's edge where you can learn about the various types of fishing available. This is the opportunity to book one of our accommodations or a pitch and spend a few nights in our campsite, on the waterfront.
Please note: it is mandatory to have a fishing permit from the Vendée Federation to fish on the lake or river banks. The inter-federal fishing card also allows you to fish in the Chausselière lake. The sale of cards is possible at the reception of the campsite: adult card, minor card, discovery card for children under 12 years old, promotional card "woman discovery", daily card, summer daily card and weekly card. Finally, the EHGO sticker is also sold at the reception of the campsite and allows its holder, when affixed to a card for an adult, to fish in 91 departments of the Entente Halieutique du Grand Ouest (EHGO), the Club Halieutique Interdépartemental (CHI) and the Union Réciprocitaire du Nord Est (URNE).

We invite you to book a mobile home in our campsite, a few meters from the lake to fish and enjoy nature during your family vacation! Line will be happy to provide you with information on the availability of rentals and fishing opportunities.
2
Types of fishing
at the pond
Did you know that? Several fishing techniques exist and allow you to catch various kinds of fish. There are also various fishing spots: lakes, rivers and even beaches.
During your stay, discover around our camping with fishing lake:
The fishing with the blow is a static fishing, which allows you to catch roach and rotengles. This is a good technique to learn about fishing while enjoying the surrounding nature.
The feeder fishing The feeder fishing, an accessory to be fixed on the fishing rod, is to be preferred if you are looking for white fish (carps, big roaches and rotengles).
The fishing in battery which is carried out with a specific fishing rod and aims at catching big carps.
The English style of fishing which is executed by a wide casting that allows you to reach big fish like breams or carp evolving in deeper waters.
Fishing with lures combining walking and fishing and which allows to catch pike and perch, essentially large predators prowling near the water's edge.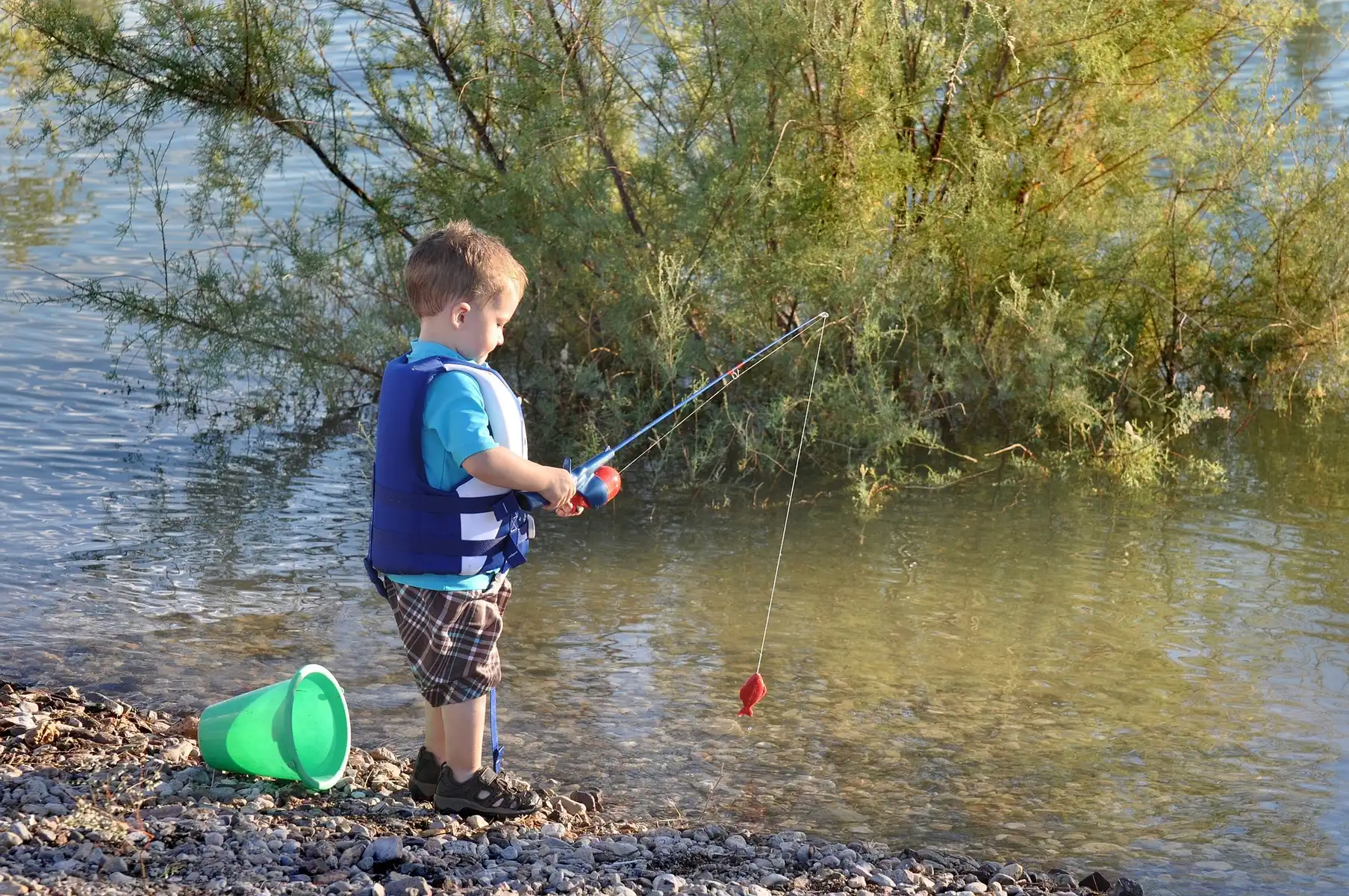 3
Regulations:
to know before fishing in the pond
To fish in good conditions, you must have a fishing permit from the Vendée Federation. All federations and associations for the protection of the aquatic environment rent the right to fish in order to allow enthusiasts to practice their hobby without problems. This fishing permit allows you to have access and practice on these territories, in France.
To buy your card, you just have to go to https://federation-peche-vendee.fr/carte-de-peche/ou-acheter-ma-carte/ or directly to the campsite reception. You will be informed of the rates.
A few steps away from your rental (chalet, lodge or mobile home), the Chausselière pond extends its 14 hectares of fresh water. This place is popular with fishermen who like to sit on one of the pontoons along the water's edge
*In addition, the 18 pontoons of Lac de la Chausselière are accessible without any additional fee, you will only need your card.
To practice fishing safely at the Lac de la Chausselière, the regulations are rigorous and not negligible. You must bring with you :
4 lines maximum.
The lines must be mounted on a rod.
The lines must be equipped with a maximum of 2 hooks.
Night fishing is prohibited.
4
Nature fishing workshops
near the campsite
For customers who wish to book our accommodations (mobile home, lodge, chalet, bare pitch) for several nights, nature fishing workshops are available. These workshops are perfect for beginners and those who wish to learn fishing techniques, especially for youngsters. You can spend a good time with your family in this place in the heart of nature during your vacations.
Let yourself be tempted by a fun and innovative workshop in the middle of nature for people who are not familiar with the world of fishing at all. In addition, you don't need to bring a card.
To learn more about fishing at Lac de la Chausselière, go to
https://www.lepecheurdesmaines.com/index.html
The advantage of booking in a campsite on the water is to multiply the activities you can do with your family or friends. Nature lovers can enjoy the trails around the lake, others can relax by the pool, while children have access to the entertainment of a recreational club.
Moreover, camping vacations are often a sign of staying in the middle of nature to enjoy the silence and idleness. Our accommodations are located in a large wooded park in the west of France, in the Vendée.
5
Book a campsite
at the water's edge
You want to take advantage of your family stay to practice your favorite hobby? Fishing is a popular activity during the summer.
Our accommodations at the La Chausselière campsite are located near a lake where you can fish with your family. This is an opportunity to relax by the water and have a good time in the heart of nature.
The place allows you to book a chalet (up to 8 people), a lodge (up to 6 people), a mobile home (up to 6 people) or a bare pitch.
You have the possibility to book in our range of accommodations at really attractive prices and benefit from promotional offers depending on the number of nights. Our accommodations have all the comforts to enjoy a family stay.
This human-sized campsite welcomes you in its rentals for a week or more. Located in the heart of a natural environment, facing the lake of La Chausselière, you will have access to a heated swimming pool within the campsite, a club for your children and many activities to share in family.
The direct access to the lake and to the leisure base offers you the joy of living an unforgettable experience at the water's edge and of discovering the attractions of fishing. If you prefer the ocean, the beach of Les Sables d'Olonne is one hour away from your rental place.
There is only one place where you can't fish, and that is in our heated pool. This one is open all the warm season, from April to October, to welcome you in family or between friends. An opportunity to relax by the water.
Children have access to a wading pool and can participate in various activities while you relax. Indeed, our children's club is waiting for them all summer long. They will be accompanied by an animator of the club to supervise them and make them spend a unique moment.
The club offers fun, sports and artistic activities for your children. They will have a great time in our kids club. Don't hesitate to book a mobile home or a pitch in our campsite located near the lake of La Chausselière for a family fishing vacation.
Thepond of La Chausselière is a popular place for fishing enthusiasts. It is also a leisure center offering water activities and where vacationers like to relax with their families.
Fishing can be practiced in rivers, lakes, water bodies, and even on the beach. Our campsite is located just one hour from the beach of Saint-Jean-de-Monts. You will be able to learn to fish on foot on the beaches of France.
Are you ready to spend hours fishing near your mobile home? Our accommodations are in the heart of a forest park of several hectares where you can enjoy the calm.
Choose among our accommodations, the one that suits you: chalet, lodge, mobile home, they can accommodate up to 7 or 8 people. per rental. You can reserve a place to put your tent or park your camper and enjoy all the comfort that our campsite offers.
Learn more about our campsite