Tree house in the Vendée
close to the Puy du Fou
Want to take a little height for your next vacation by booking a perched cabin? Our new tree house in the Vendée is now available for rent !
1
Tree house for rent
for 2 to 6 people in Vendée
You want to book a romantic accommodation for a weekend for two, an exceptional night under the stars or an unusual rental in the Vendée to get away with your family? Unusual lodgings do not only rhyme with lodges, yurts or caravans, but they are also…
We offer you a tree house near the Puy du Fou domain in Vendée (elected best amusement park in France and even in the world), only 14 km from the castle of Tiffauges and about 1 hour drive from the castles of the Pays de la Loire.
You can also take advantage of the activities offered at the Maison de la Rivière located in Saint Georges de Montaigu: boat rides on the Grande Maine, treasure hunt for children, lunch and aperitif along the water, exhibitions, etc.
This hut is the ideal marriage of comfort and naturalness, of high quality and atypical, and all this in order to spend unusual vacations in France in a 100% natural domain. Entirely made of wood and built around an old oak tree, your tree house will welcome you in its enchanting decor for vacations with your partner or your family: its beautiful surface of 30 m² has a capacity of reception from 2 to 6 persons in the best comfort.
If you come with your children, the playful side of the place will not fail to seduce at every age: to sleep, you will enjoy a beautiful room with a double bed while your children will have access to 2 single beds upstairs and a double bed. With this cabin, both relaxing and exotic, the Chausselière lake campsite reconciles luxury and the unusual.
In addition to a spacious and fully equipped interior, the cabin offers its occupants 40 m² of terrace, which brings the total living area, interior/exterior, to 70m².
Did you think you would be cramped by renting a tree house near the Puy du Fou park? Here, on the contrary, everything is designed to breathe and recharge. The hosts even offer to book your tickets for the Puy du Fou domain directly at the reception of the establishment.
2
Cabin perched at 4 meters high
with view on the lake of La Chausselière
The perched hut in the Vendée of the lake of La Chausselière is conceived to fill your desires of change of scene and unusual for one night or more. It is a real accommodation in height, nestled at 4 meters in the trees, and which offers from its beautiful terrace built around the trunk of an oak a unique view on the lake of the Chausselière.
Verticality is the very concept of this accommodation perfectly integrated into nature: from the pulley that allows you to take your luggage up to the dormitory that still requires you to climb a little to lie down with your nose in the stars, everything is playful and adapted to families with children.
In the evening, on your terrace, you benefit froman exceptional position to admire the sunset on the lake.
The next day, perhaps you will be early enough to see its first rays appear on the horizon? It will soon be time to pull up your breakfast basket from the pulley and enjoy it from your perched position!
A real immersion in the Vendée nature, the tree house of our campsite near the Puy du Fou gives you the privilege to live like a bird, sheltered from the glances and at the same time in front of a sublime panorama on the lake.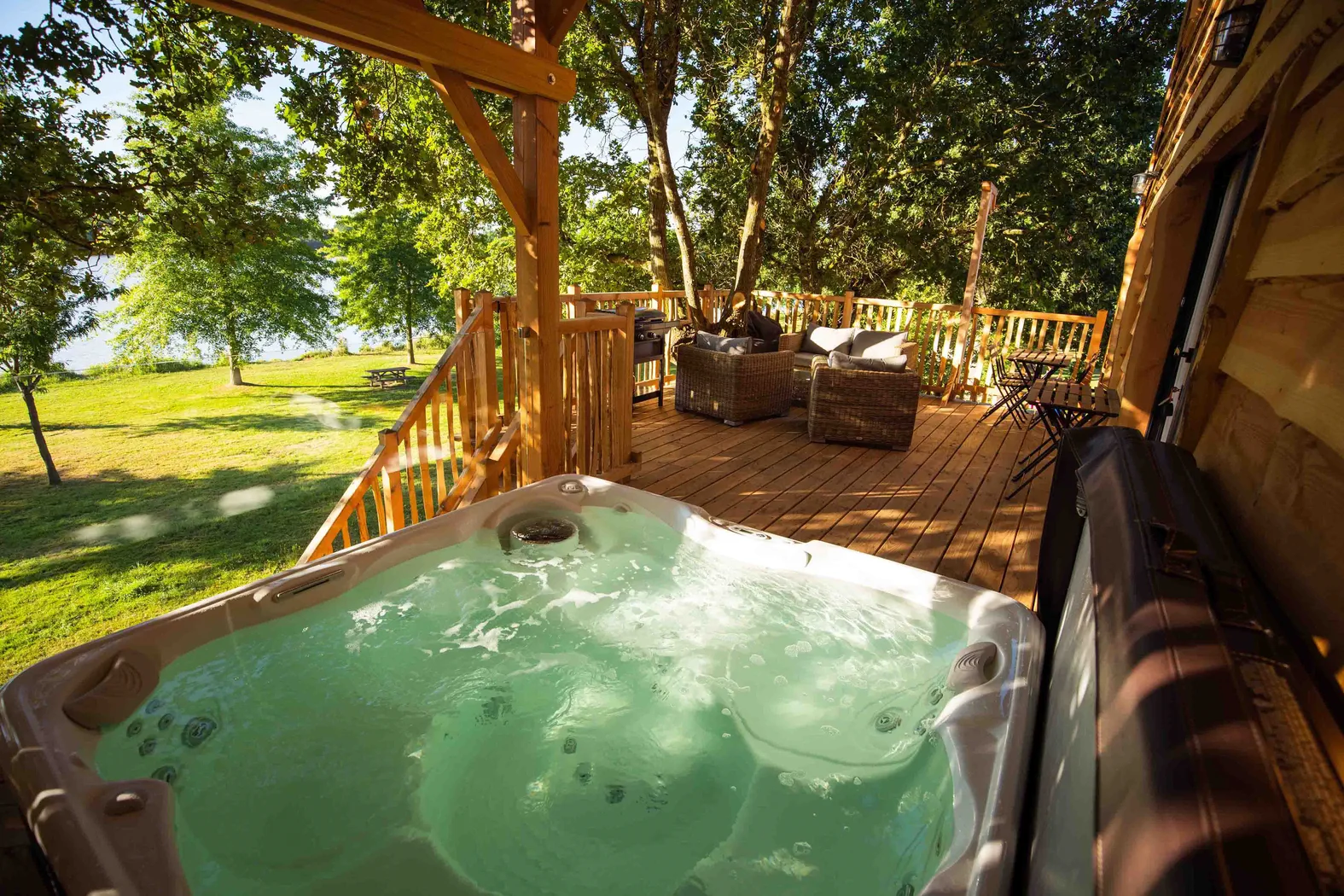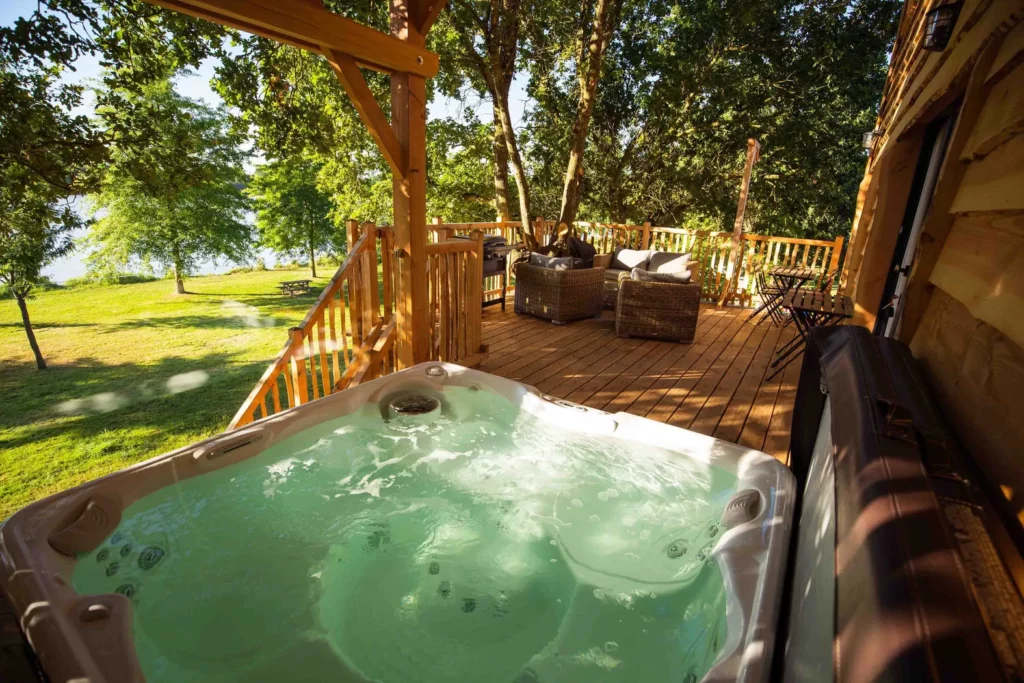 3
Cabin with all comforts
in the oaks with private spa
We welcome you at the reception of our campsite in La Guyonnière:
July and August: every day from 8H to 12H and from 14H to 20H.
April, May, June and September: every day from 9am to 12pm and from 2pm to 7pm and on Sunday from 9am to 12pm.
From October to March: Monday to Friday from 9H to 12H and from 14H to 18H30. Closed on Saturday and Sunday except for arrivals and appointments.
We can be reached by phone every day from 8 am to 8 pm at 02 51 41 98 40 or 06 83 35 85 85. If exceptionally we do not answer, leave a message, we will call you back as soon as possible.
Arrivals outside the opening hours of the reception are possible. Just let us know at the time of booking and we will make the necessary arrangements before your arrival.
Our campground IS OPEN YEAR ROUND for the rental of wooden chalets. Mobile homes and campsites are available for rent from the beginning of April to the end of September.
Learn more about our rentals