Unusual rental in Vendée near the Puy du Fou
Do you dream of discovering the Puy du Fou while staying in an unusual accommodation? Sleeping under the stars or a nature getaway? Looking for an escape or a change of scenery for a romantic night? Discover without further delay our unusual accommodations in the Vendée!
2
Choose your accommodation
for an unusual night in the Vendée
There are many atypical accommodations to get away from it all during the vacations: caravan, cabin, tree house, … But in our camping near Les Epesseswe propose you to spend an unusual night Puy du Fou in one of our atypical canvas tents during your stay as a couple, with family or friends.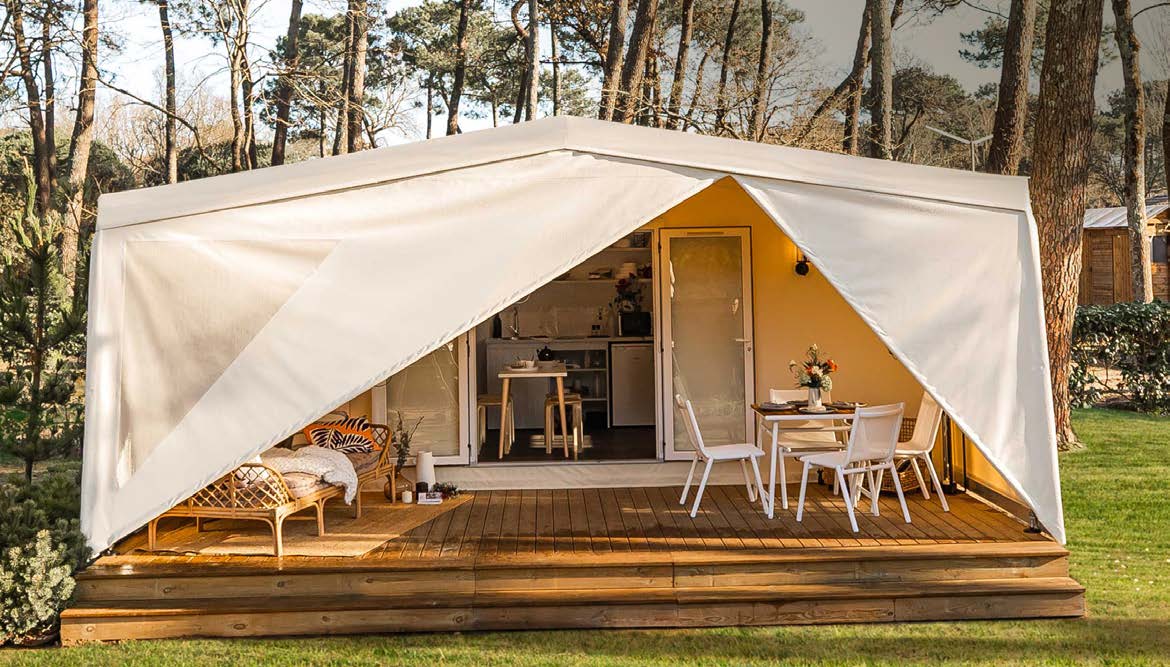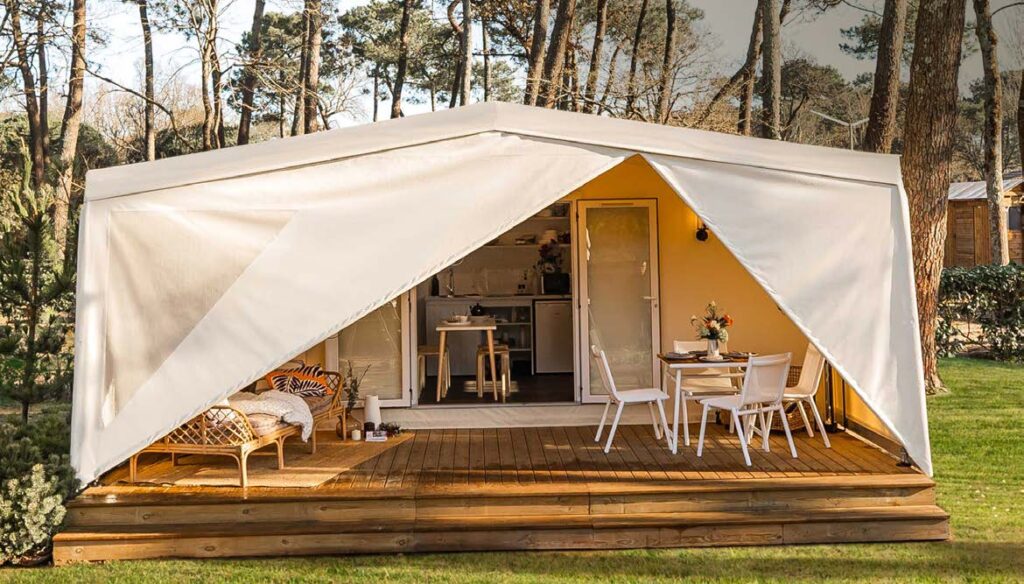 3
The mobile home
unusual
First of all, discover the cocosweet, an original canvas mobile home , both by its shape and by its layout. Indeed, it has a round shape and blends perfectly with the surrounding nature.
It has a surface area of 19 m² and is designed fortwo to four people. You will find a kitchenette to prepare food and a dishwashing kit.
The master bedroom has a double bed while the children's room has two. The latter also serves as a living room and the beds also serve as benches.
A small covered terrace and two sun loungers promise pleasant moments of relaxation.
Try an atypical accommodation for your rental in the Puy du Fou: a Tipi in our campsite in Vendée, only 25 minutes away from the Puy Du Fou. An unusual private accommodation ideal to recharge your batteries and escape at the same time!
The tipihome is one of the unusual accommodations close to the Puy du Fou that we offer. This location is particularly loved by children. With a surface area of 34 m², this giant tepee is both fun and unusual. Its kitchen and living area includes plenty of space to heat up meals and room for four people. The parents' bedroom is accessible by a ladder and offers a comfortable double bed. The children's room is made up of single twin beds. Finally, a covered terrace houses a garden table and four chairs for meals in the sun.
This is our latest addition! Discover our tree house in Vendée near the Puy du Fou for your next stay !
With a panoramic view of the lake, you will be amazed at the sunrise and sunset, and enjoy the comfort of the hot tub on the covered terrace… enough to recharge your batteries and break the routine for a truly unusual stay in the Vendée!
Are you interested in renting an unusual accommodation in the Vendée? You will also like :
Learn more about our campsite