CAMPING PUY DU FOU
1
Puy du Fou Packages
camping 2023
Save money by booking your personalized cheap Puy du Fou camping package for 2 to 4 people at the Lac de la Chausselière with 2 accommodations of your choice and entrance tickets to the amusement park included! From our campsite near the Puy du Fou, access the park in only 25 minutes, enjoy it !
From this year on, the tickets must be dated. You must therefore choose your date(s) of visit to the Puy Du Fou and specify them to us when you make your reservation, online: in the comment section.
2 nights + 1 day at Puy du Fou
*Prix variable selon période et hébergement sélectionné.
2 nights + 2 days at Puy du Fou
*Prix variable selon période et hébergement sélectionné.
7 nights + 2 days at PDF
*Prix variable selon période et hébergement sélectionné.
Select the accommodation of your choice, click on Book, then find our Puy Du Fou packages:
You are more numerous or you prefer to stay in another type of accommodation? No problem, book your accommodation and buy the tickets separately when you arrive at the campsite near the Puy du Fou! Yes, everything is planned if you wish to visit the Puy du Fou during your stay at the Lac de la Chausselière campsite: a ticket office is available at the reception to buy your tickets whenever you want!
2
Various rentals for your stay
camping Puy du Fou
In the vicinity of the Puy du Fou, campsites and traditional accommodation await you for your holidays.
If you choose our campsite near the Puy du Fou in the Vendée, you will find an accommodation adapted to your desires: Premium tree house, chalet, mobile homes, glamping in cabins on stilts, unusual coconut lodge: a wide choice is available to you to stay near the park and find an ideal vacation rental for the whole family. At the Domaine du Lac de la Chausselière, our wooden chalets can accommodate large families and will make you feel at home. The rental of equipped mobile homes and bungalows for disabled people allows you to combine comfort and budget for your stay in a campsite near the Puy du Fou in the heart of the Vendée.
For an incomparable vacation in the Vendée, our open-air hotel also offers superb premium lodges on stilts. For an unusual stay between tent and mobile home, the atypical cocosweet is perfect, discover the glamping by renting a large canvas tent to combine nature and comfort at the best price.
It's up to you to choose your favorite Puy du Fou rental for a weekend, a week or more!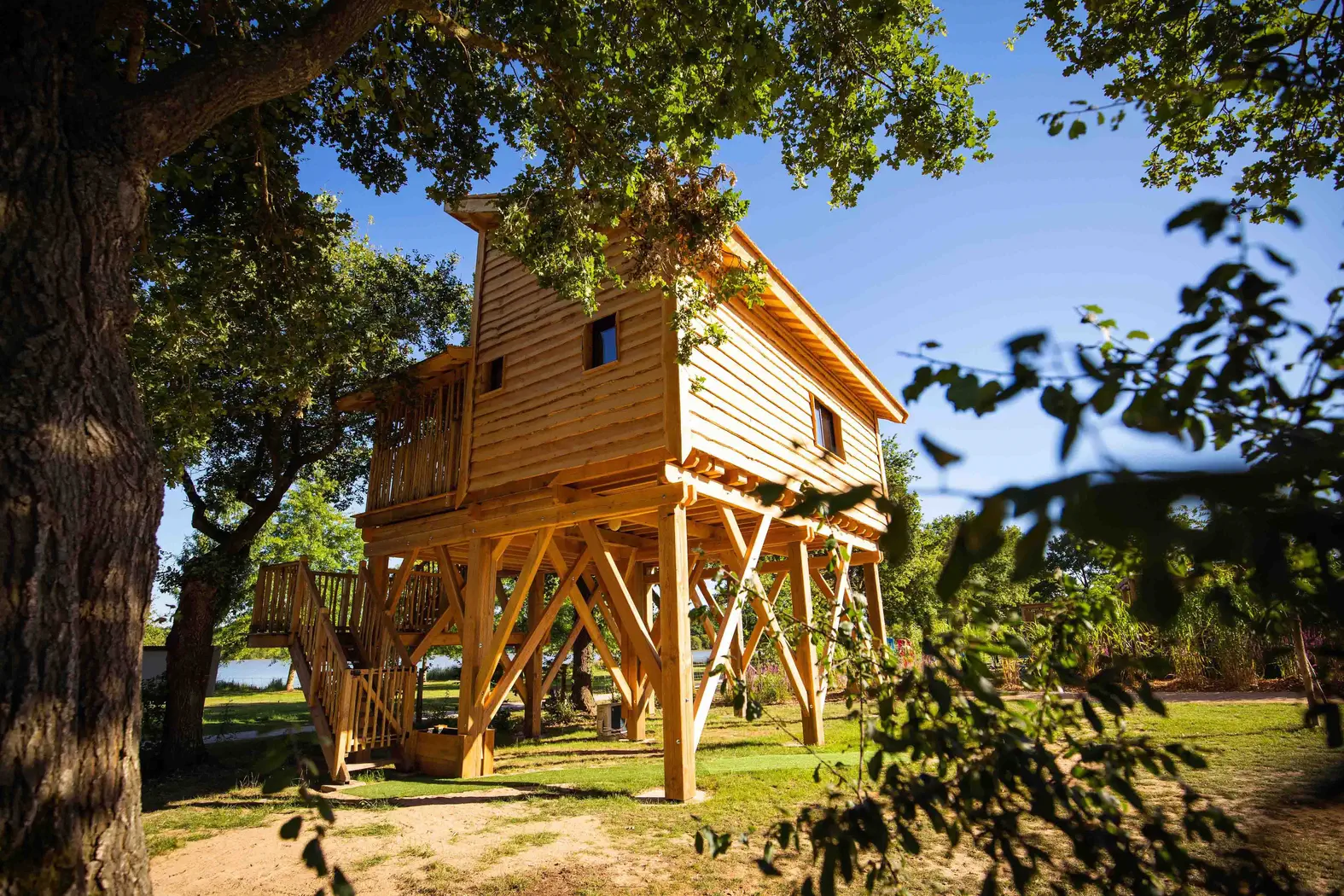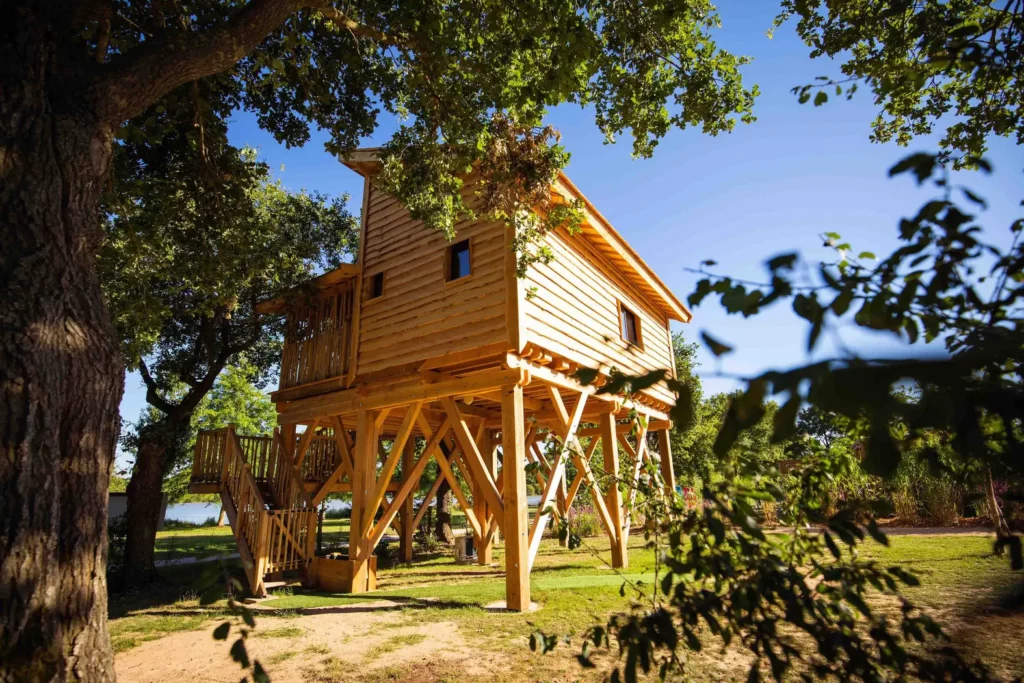 See all our accommodations

>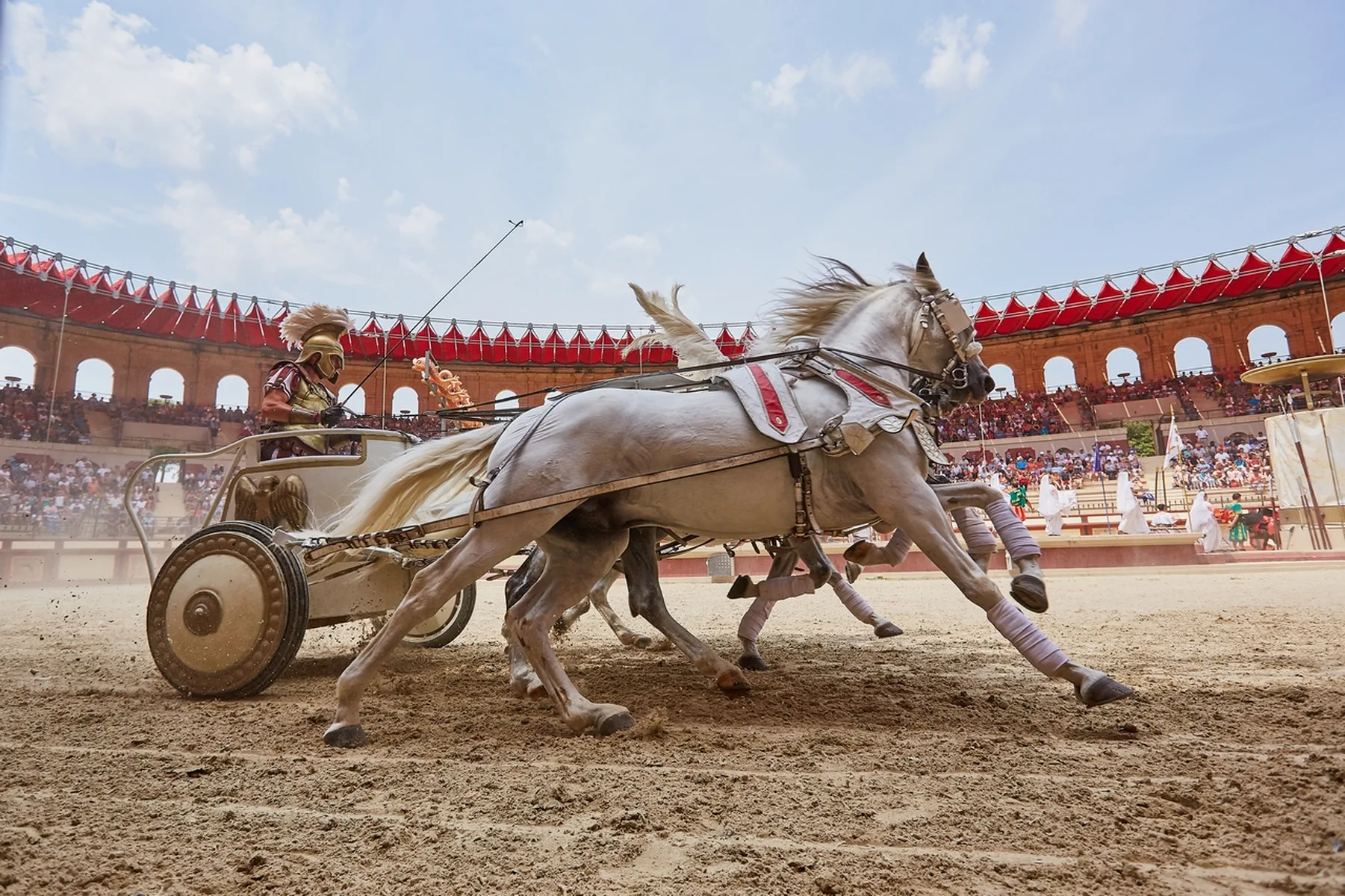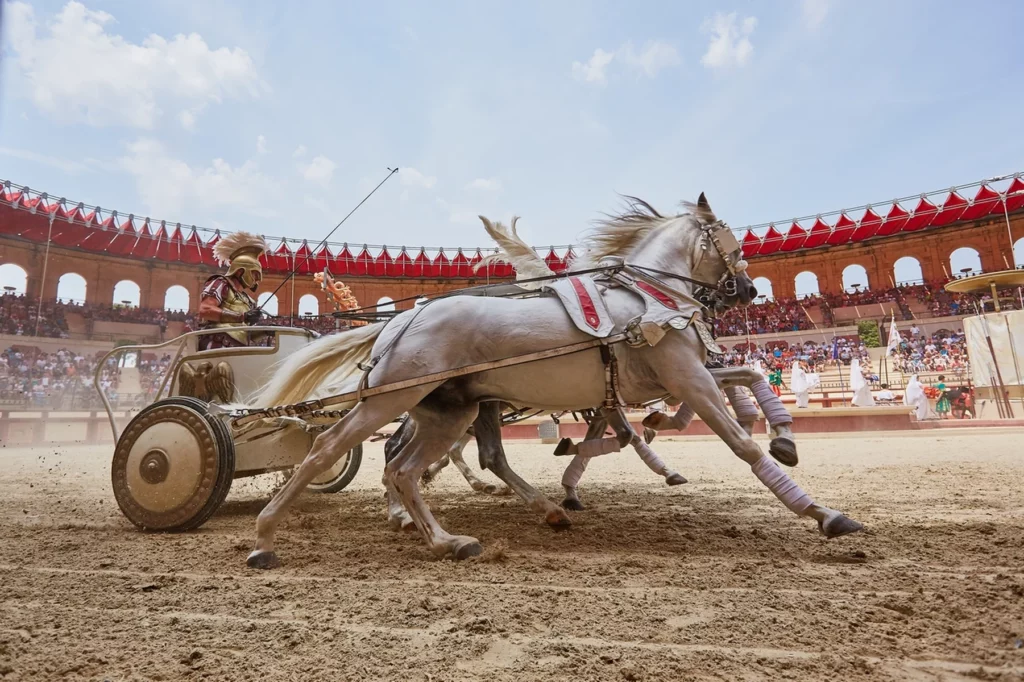 3
The Puy du Fou
in a camper
At the Puy du Fou, campers and caravans are legion ! You are going to the Puy du Fou in a motorhome or caravan and you are wondering which is the best place to spend the night ?
You should know that there isa parking area near the Puy du Fou for campers for a one-time need or for one or more nights, at 10 € per night, but it is a parking lot with basic services open all year long.
If you prefer a bit of calm and greenery, for more pleasant nights, choose a shady or sunny campsite near the Puy du Fou, according to your wishes, for a comfortable installation. You will have access to it from 16 € off-season, and will be able to benefit from a package adapted to your needs to spend a stay in a pleasant and quiet environment conducive to relaxation with direct access to the lake of La Chausselière.
In addition to a much more pleasant location and proximity to the park, if you choose to reserve one of our campsites, you will also have access to a wide range of services and infrastructures our family campground, including optional wifi, various activities and heated indoor poolideal for swimming even out of season!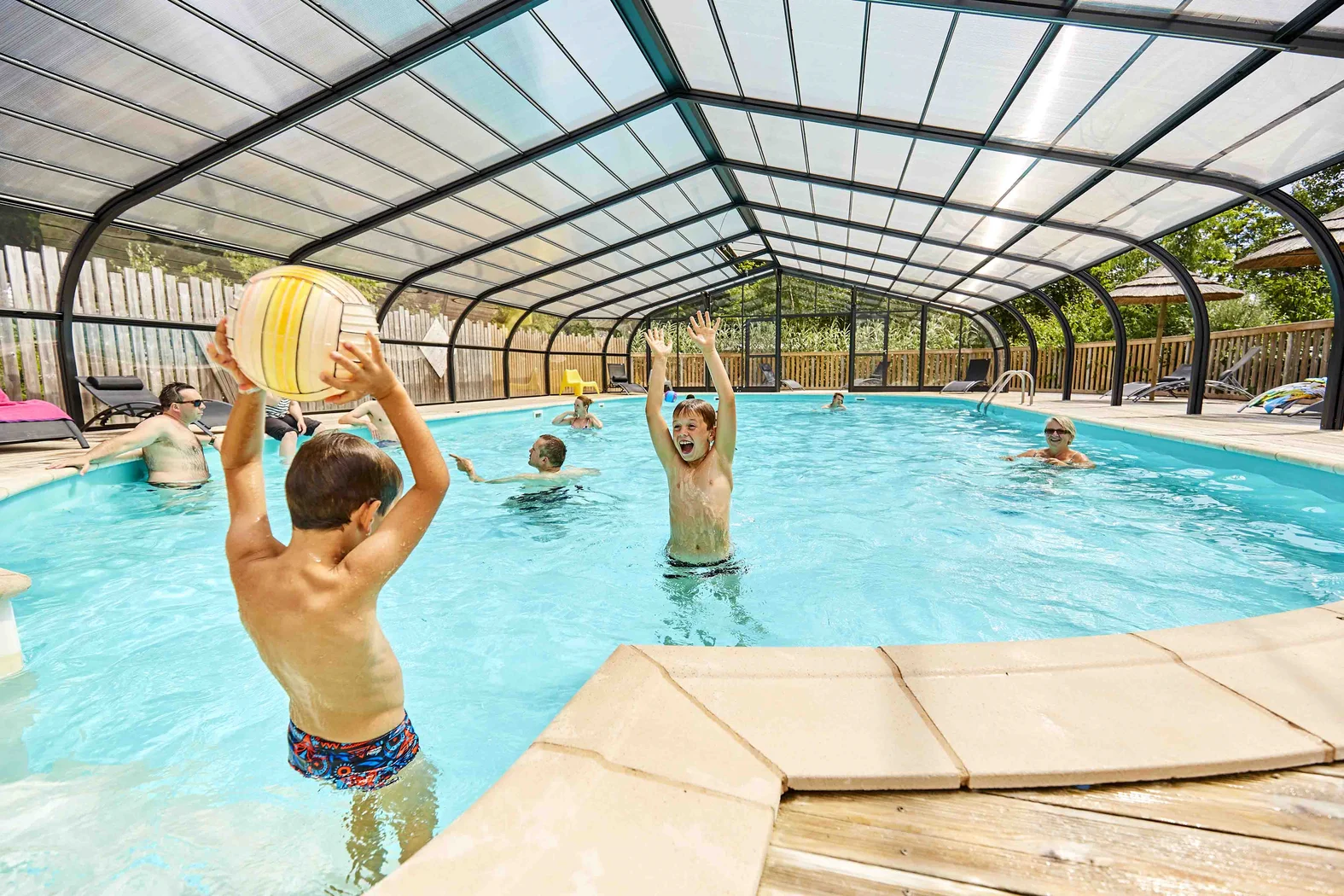 4
Covered and heated swimming pool
to relax when you return from the park
You had a good time at the Puy du Fou but you're tired of going back to your campsite in Vendée? Then it's time to relax in the aquatic area, ideal to recharge your batteries, get rid of all the aches and pains and start the evening gently!
In low season as in high season, choose our Vendée campsite with a covered and heated swimming pool 1 hour from the town of Les Sables d'Olonne in the Pays de la Loire region allows you to swim quietly in water at an optimal temperature. If you just want to relax on a deckchair, that's also possible while the little ones are having fun with our children's games! Sit back and enjoy a good novel or simply close your eyes and reminisce about your visit. The pool is spacious, so you can enjoy a quiet moment without worrying about being disturbed while you swim, splash around or relax.
Looking for a campsite in Puy du Fou with a swimming pool? Don't hesitate to drive only 25 minutes: relaxation and fun guaranteed in one of the best campsites of the area according to the customers' opinions!
Discover our pool

>
5
Read more
on the history of the Puy du Fou
It all began in 1977, when the ruins of the Puy du Fou castle were discovered 1 hour from Sables d'Olonne and the Atlantic coast in the town of Les Epesses in the Pays de la Loire region, between Saint Malo du Bois and Saint Mars la Réorthe. The following year, Philippe de Villiers created the Cinescénie, an outdoor night show performed on a 23-hectare stage by 3,400 volunteers.
It tells the history of the Vendée through the staging of a family. 14,000 places are planned and more than 400,000 people come to attend each year, often staying in the surrounding starred campsites. As for the Grand Parc du Puy du Fou, it was created in 1989 next to the site of the Cinescénie.
Since then, it has become one of the leading leisure complexes in France and has been voted best theme park in the worldby offering a wide variety of magical shows and numerous family activities in the heart of the Vendée, and by collecting better reviews than all the other activities to do in the Pays de la Loire region.
6
Read more
more about the park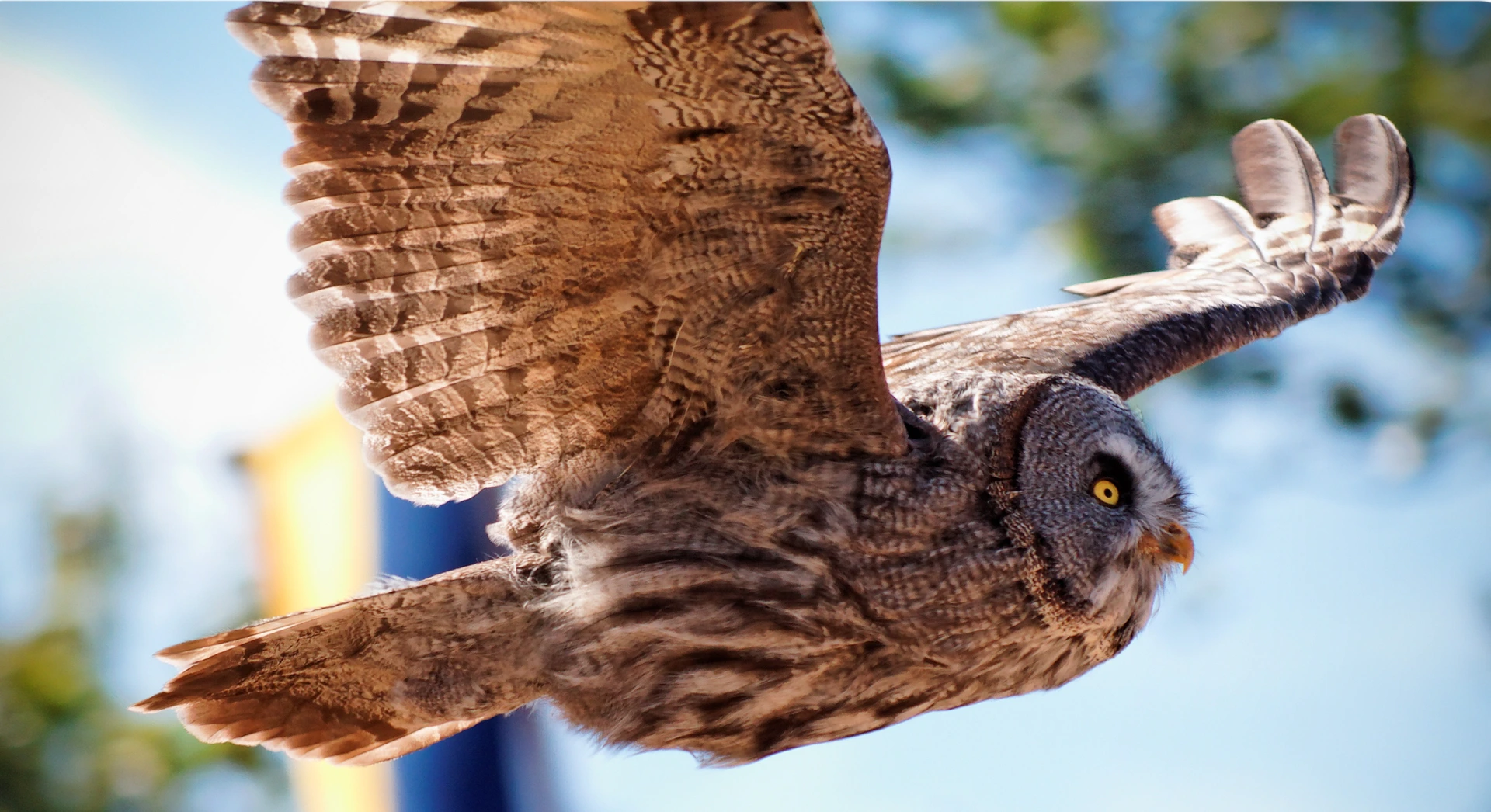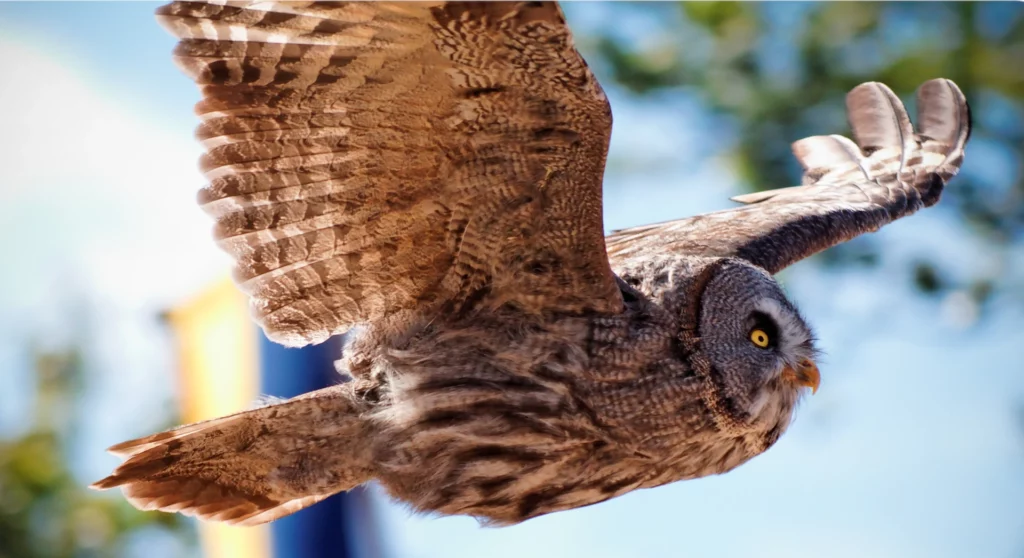 Covering some 50 hectares, the Grand Parc du Puy du Fou, voted best park in the world in 2014, is open from April 7 to November 5, 2023 and offers many services.
On site, if you are a little hungry, various restaurants allow you to have lunch during your visit. Of course, you can also bring your own snack to eat in the park, which offers multiple picnic areas. There is even a small castle that serves as a children's playground or recreation area! For your information, you can leave the park at any time, which will allow you to pick up lunch or clothes in your vehicle.
If you plan to attend all the animations, plan to block at least two days on your camping vacations near the Puy du Fou.
A must for tourism in the Vendée, the Puy du Fou offers an idyllic life-size setting retracing different eras of our history. Whether for children or adults, the Puy du Fou will amaze you. You will share magical moments with your family while watching historical performances.
From Ancient Rome to the First World War, the Puy du Fou park in the Vendée offers you fifteen or so true-to-life representations (Orgues de Feu, Ball of the Ghost Birds, etc.)! Note that the duration of the shows varies, for example 1 hour and 40 minutes for the Cinescenium and about 30 minutes for the Ghost Birds Ball or the Fire Organs.
With spectacular tableaux, breathtaking animations and multi-hour staged shows made by and for history lovers, featuring more than 2500 actors and various animals (special mention to the wild bird), this park is literally made for you. The life-size animations will fill your eyes!
8
Read more
on rates and schedules
To make a long story short, the "Grand Parc" entrance fee for a day starts at 42 € per adult. It does not allow you to attend the Cinéscénie, whose ticket alone costs 31 €, but the "Grand Parc + Cinéscénie" package includes both (reservation required, 70 € per day depending on the season). You will save a little bit of money with the combined ticket.
Please note that large families and people with disabilities can benefit from a preferential rate by reserving their place by phone. Consult the Puy du Fou rates now.
The park is open from 9:30 am to 7 pm during the yellow period. You will be able to stay until 10:30 p.m. for night shows and until 9:00 p.m. for the Cinescénie programs, held from 10:00 p.m. to 11:40 p.m., (arrival required 1 hour before the start).
From this year on, the tickets must be dated. You must therefore choose your date(s) of visit to the Puy Du Fou and specify them to us during your online reservation in the comment section. In addition, 2 or 3 day tickets must be used consecutively.
Check the calendar for precise opening and closing days, often on Monday and Tuesday in the off season. Our campsite near the Puy du Fou gives you all the information on the spot as well as the tickets!
Learn more about the Puy du Fou